ESTELITE SIGMA QUICK®
Supra-Nano Filled Universal Composite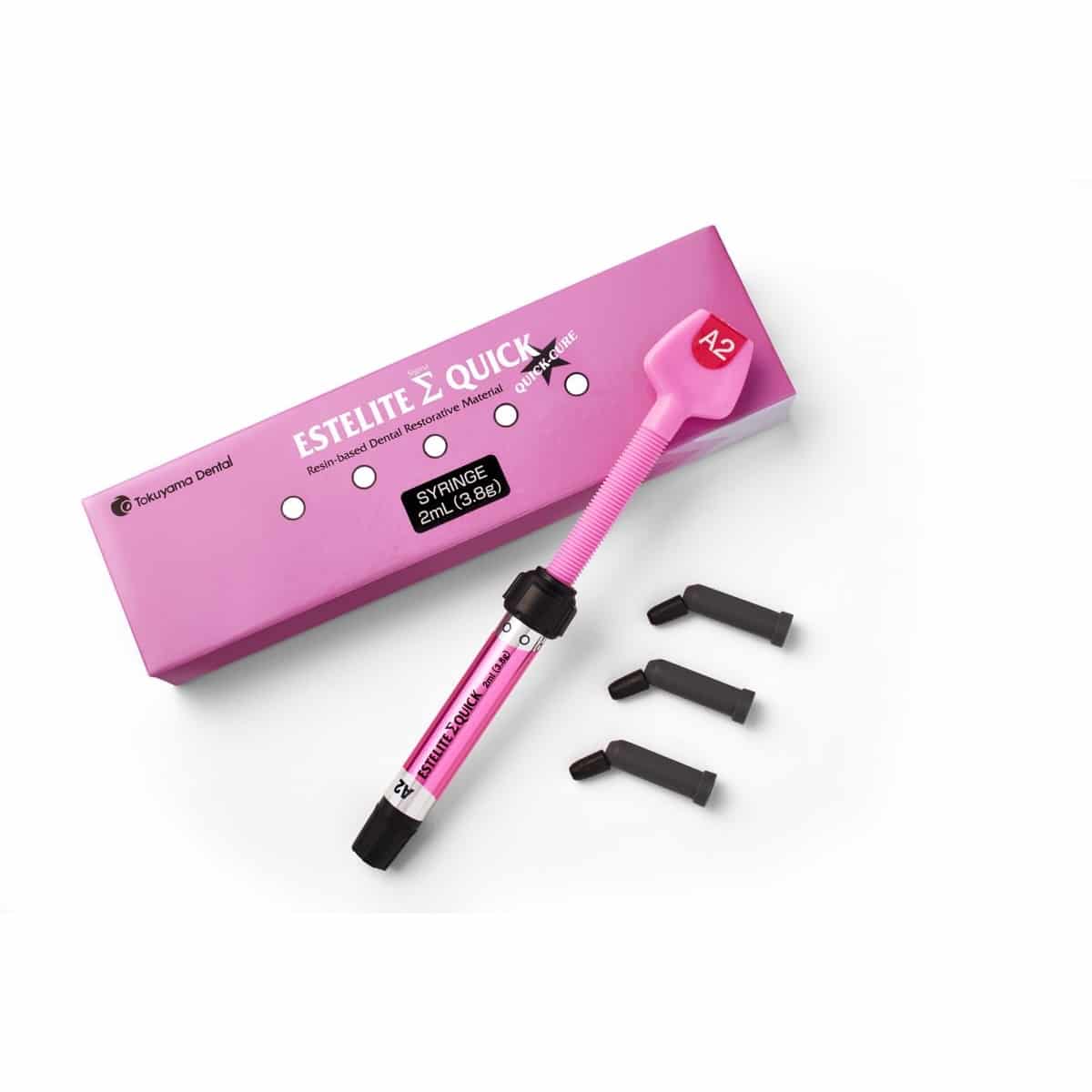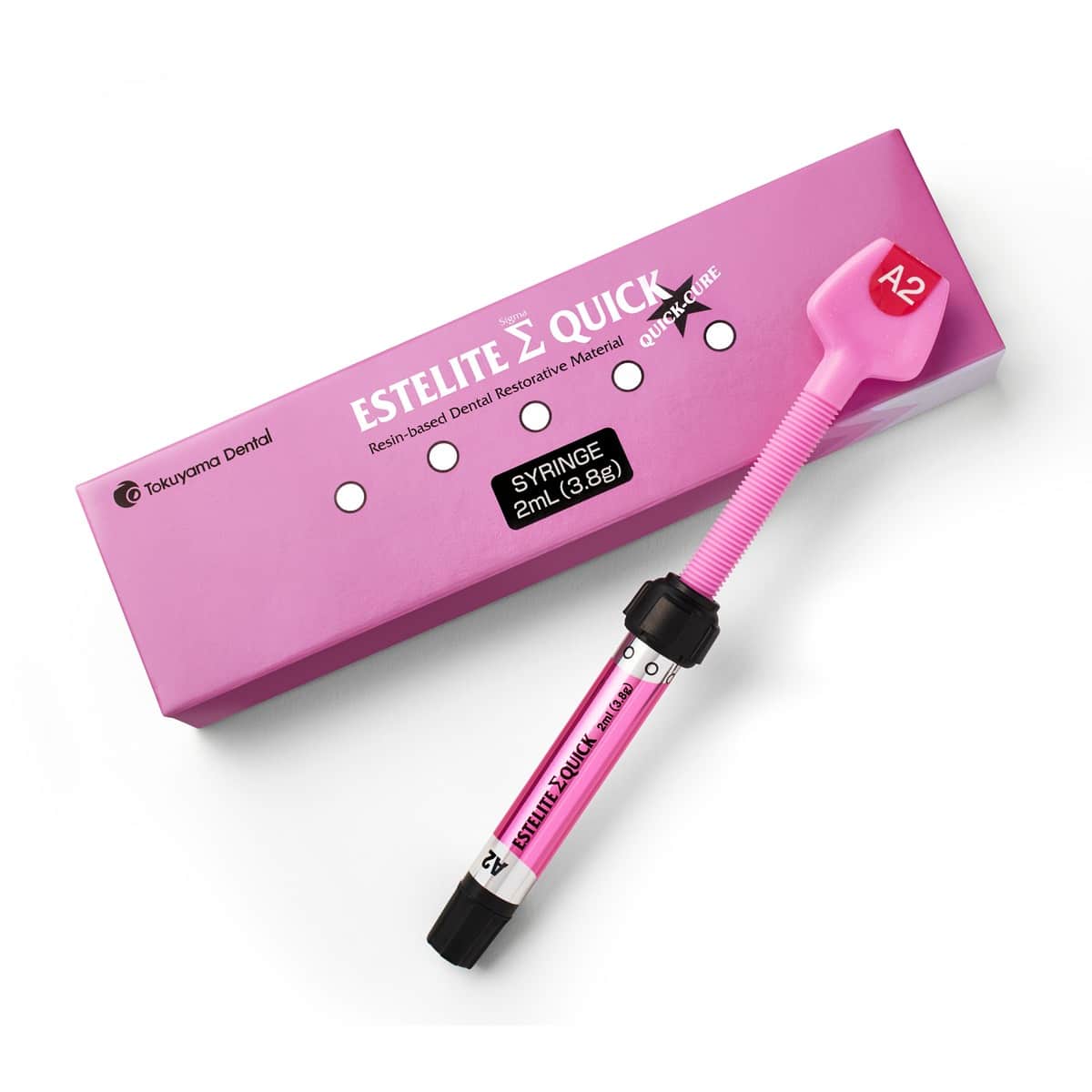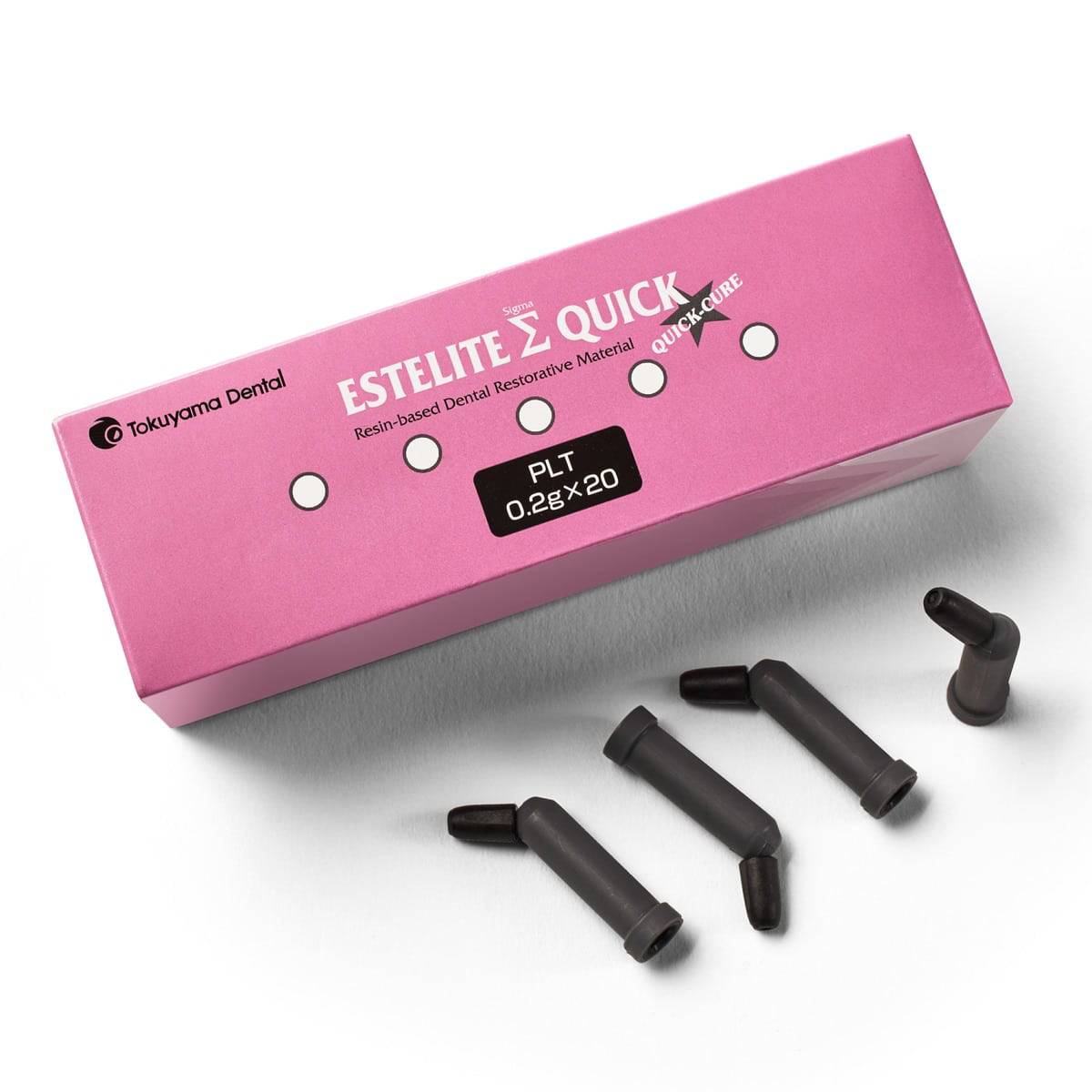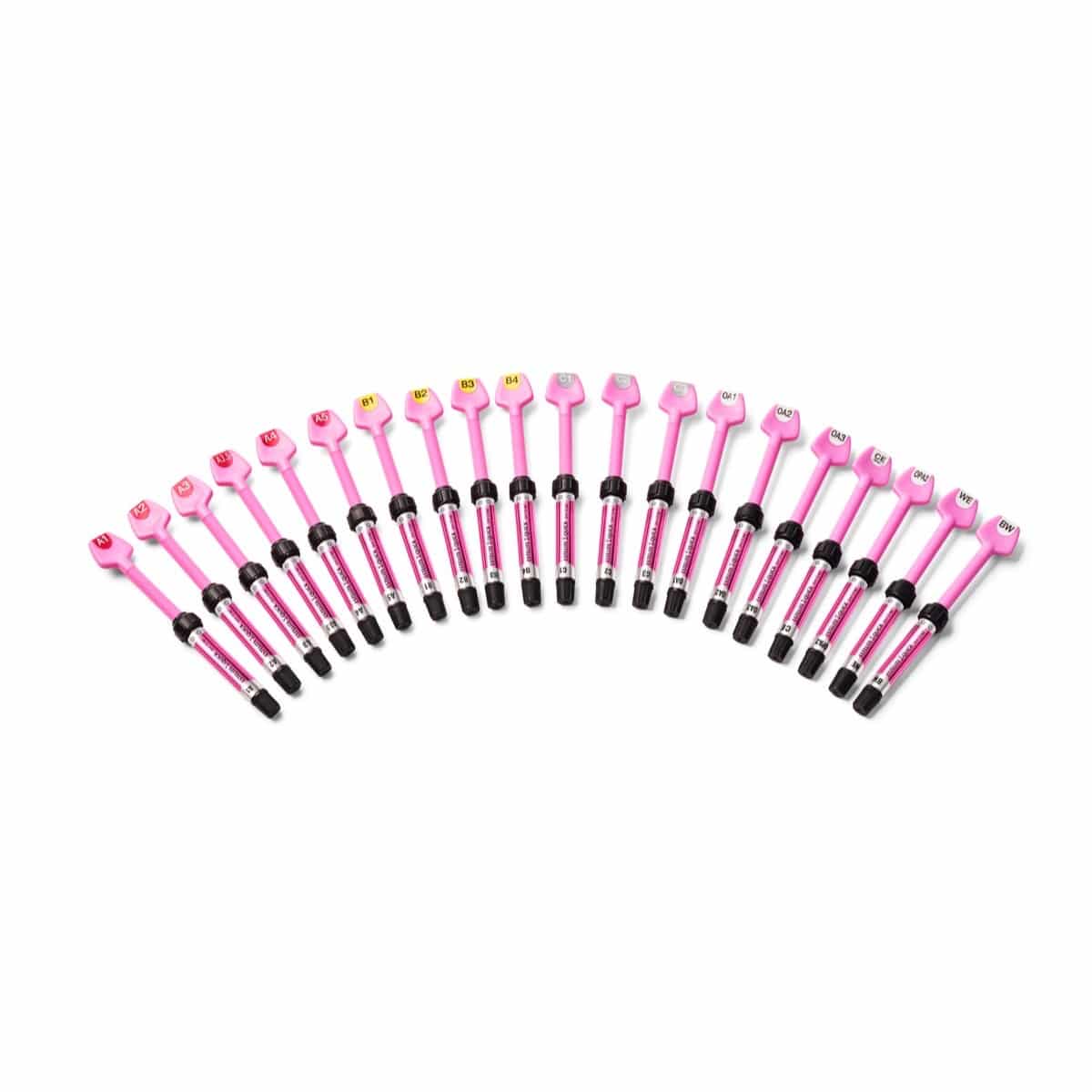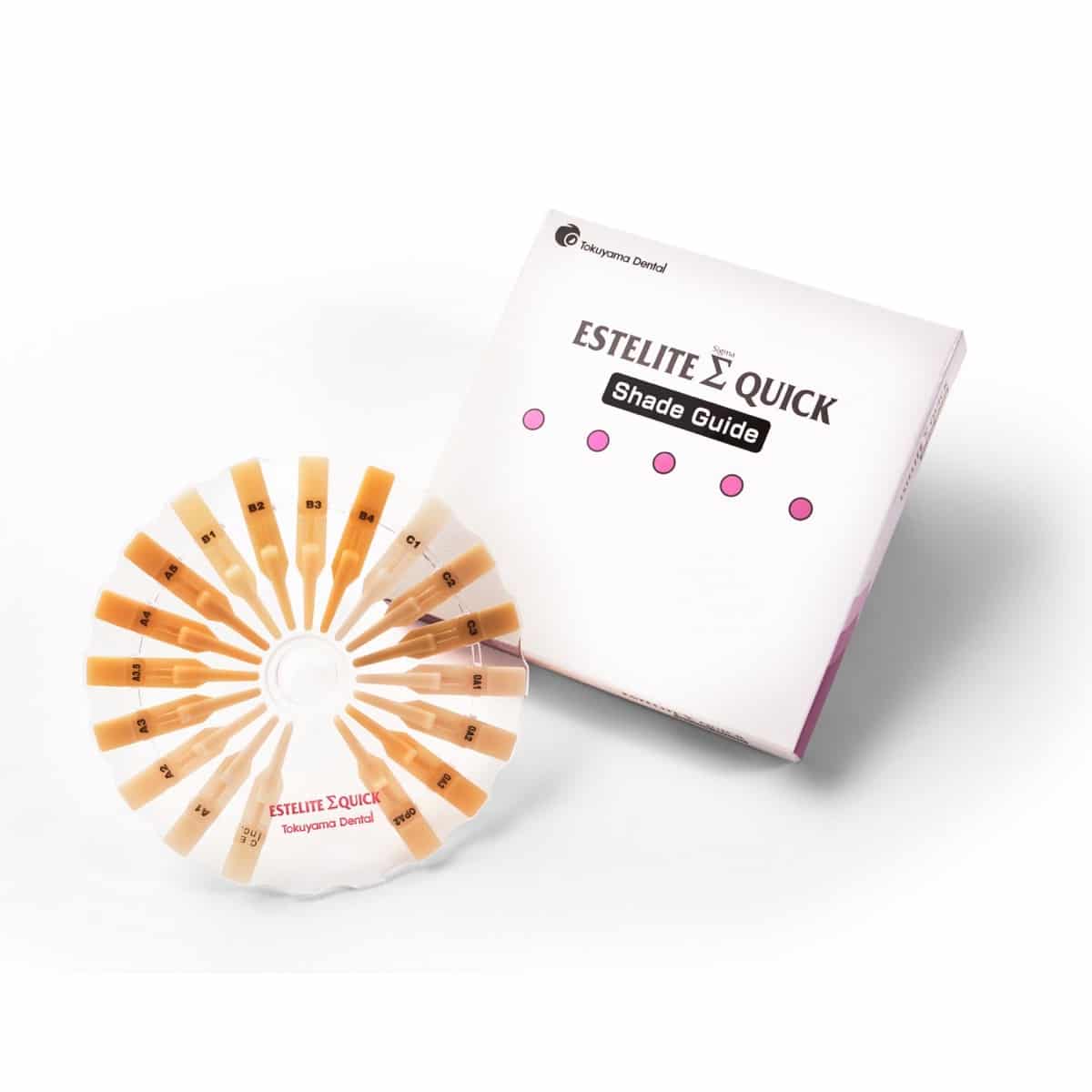 ESTELITE SIGMA QUICK®
Supra-Nano Filled Universal Composite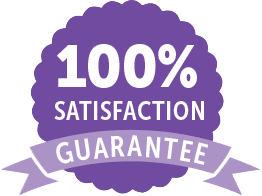 The miracle match
Estelite Sigma Quick is a universal, supra-nano filled dental composite that utilizes 100% spherical fillers (82% by weight/ 71% by volume). This unique world-class technology delivers a flexible shade matching process, exceptional esthetics and long-term wear resistance.
SIMPLE
Utilizing supranano spherical fillers, one shade can invisibly blend within
several shades.
Creamy, non-sticky consistency for easy handling.
Extended working time of 90 seconds under ambient light, with only 10 seconds light-curing.
BEAUTIFUL
High diffusion and refraction of light results in a unique blending effect.
Resists slumping for effortless sculpting.
Exceptional polishability reaching over 90%* glossiness in only 60 seconds.
LASTING
Reduced abrasion for long-term wear resistance.
Low 1.3% linear shrinkage resists marginal leakage.
Low shrinkage stress for lasting patient comfort.
Retained levels of surface smoothness for a lasting polish.

*Performance based on polishing light-cured Estelite Sigma Quick with waterproof abrasive paper (#1500) followed by Soflex super fine. **Abrasive paper and Soflex are not products of Tokuyama Dental America.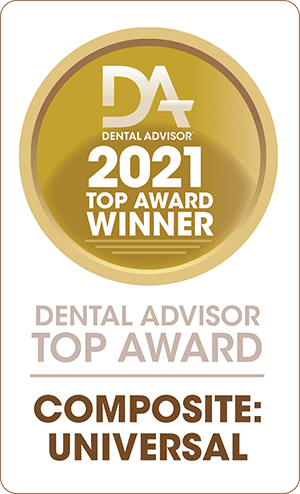 Top Universal Composite 12 Years in a Row
We are proud to announce that Dental Advisor has awarded Estelite Sigma Quick as the Top Universal Composite this year again.
LEARN MORE
ESTELITE COMPOSITES
Spherical Filler Technology­­
Developed over 25 years ago by Tokuyama's Research & Development Team in Japan, Estelite's spherical filler particles have won numerous awards for delivering superior benefits to Dentists and patients alike. With an average particle size of 200 nanometers (supra-nano), the spherical filler particles are the foundation to delivering simple, lasting and beautiful results.
Other dental composite brands contain irregular shaped sized fillers, which interfere with polishability, shade blendability, and longevity. However, as a result of the revolutionary spherical filler technology, Estelite dental composites exhibit exceptional esthetics while maintaining excellent physical properties, a signature feature of Tokuyama Dental's composites.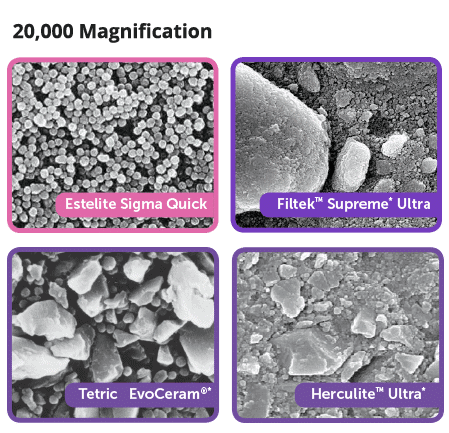 *Not a registered trademark of Tokuyama Dental Corp.
FEATURES & BENEFITS
Superior wear resistance
Less wear to opposing teeth
Exceptional handling
Extended working time – 90 seconds
Wide shade matching range ("superior blending effect")
Outstanding polishability
High gloss retention over time
Quick curing time – 10 seconds
1.3% linear shrinkage
Good radiopacity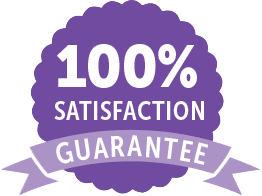 Try Estelite Sigma Quick
RISK FREE!
LEARN MORE
INDICATIONS
Anterior and posterior restorations
Composite veneer
Diastema closure
Composite/porcelain repair
The same shade of Estelite Sigma Quick was used in each of the following cases, which helps illustrate its wide shade matching range:
AVAILABLE SHADES: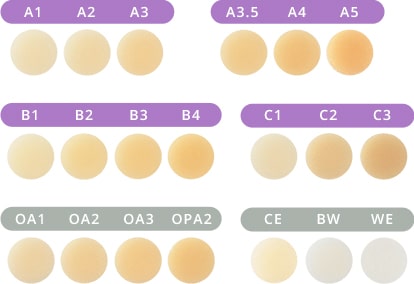 Shade matching chart: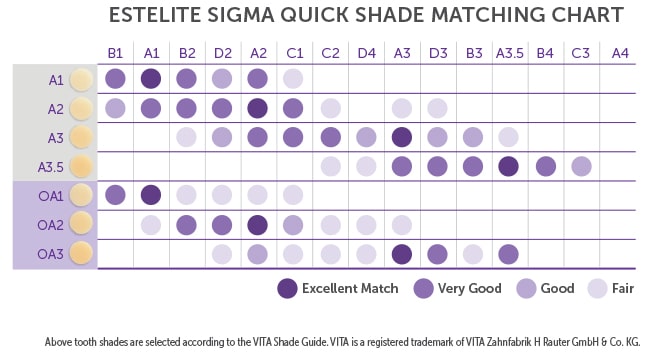 AWARDS
The Dental Advisor Top Universal Composite 2010 – 2021
The Dental Advisor Editor's Choice
The Dental Advisor 2011 Preferred Products
Dentistry Today Top 100 Products 2011 – 2013
Dental Product Shopper 2010 Best Product

---
Love using Tokuyama products? Submit your testimonial here.
TESTIMONIALS
"I don't care what composite resin you're using right now, if you try Estelite Sigma Quick, you will not go back to what you're using. When a dentist is doing fillings, they want a material that can be moved the way they want it to be moved (some like firm material, some like not so firm material), and they want the material to look good once it's placed onto the tooth. These are the two reasons why you should be using Estelite Sigma Quick. It has the perfect consistency (not too stiff, not too soft), and its ability to blend with a tooth, makes shade matching quick and easy (I use shades B1 and A2)."
– Richard Lipscomb, Mitchellville, MD
"Estelite Sigma quick is simple to use and gives reliable esthetic results. The extended working time and rapid polymerization are especially useful when working with children. "
"Besides the reliability and strength, Estelite Sigma Quick looks great as it has high polishability and a chameleon effect due to its spherical fillers. This allows for stocking of less shades and very aesthetic results. What more can we ask for durable, reliable, and aesthetic. "
– Dr. Carla Cohn, Winnipeg, Canada
"Estelite Sigma Quick is a true universal composite because it combines exceptional esthetics and user-friendly handling with the physical properties we demand for posterior restorations. The unique RAP initiator yields an extended working time coupled with a decrease in curing time – a real bonus to chairside efficiency."
– Dr. Doug Lambert, Edina, MN
"Estelite Sigma Quick is the most esthetic composite we have ever used and I love the handling."
– Dr. Ron Kaminer, Hewlett, NY
"Estelite Sigma Quick is smooth and creamy and extremely easy to place, great for layering or single shade restorations.Chameleon effect seems better than ever. Nice improvements on an already great product"
– Dr. Howard Glazer, Fort Lee, NJ
"We've had fantastic results with Estelite Sigma Quick. The chameleon-like nature of this composite allows for easy blending in the esthetic zone."
– Dr. Brian Gray, Washington, DC
"I have been placing composite veneers for over 25 years and Estelite Sigma Quick is the most realistic appearing product that I have ever used. It holds its luster for years and is very resistant to stain and discoloration."
– Dr. Jeffrey Grabiel, Birmingham, MI
"Estelite Sigma Quick is my first choice when choosing a bonding material for my patients. I am able to confidently deliver an impeccable shade match for my sophisticated anterior cases. The strength of the composite material is bar none."
– Dr. Randy Halihan, Crystal Lake, IL
"Estelite Sigma Quick has been my composite of choice for a long time. It has great versatility, handling and is very cost effective. Shade matching and opaquing is easily achieved with all of the various options, and it polishes to match natural tooth. It also gives me confidence in Estelite Sigma Quick knowing that some of the leading dental voices think so highly of it."
– Dr. Gregg Fink , Newark, DE
RESOURCES
Product Presentation
Technical Report
Product Instructions
Safety Data Sheets
Videos
ORDER NOW
Estelite Sigma Quick Syringe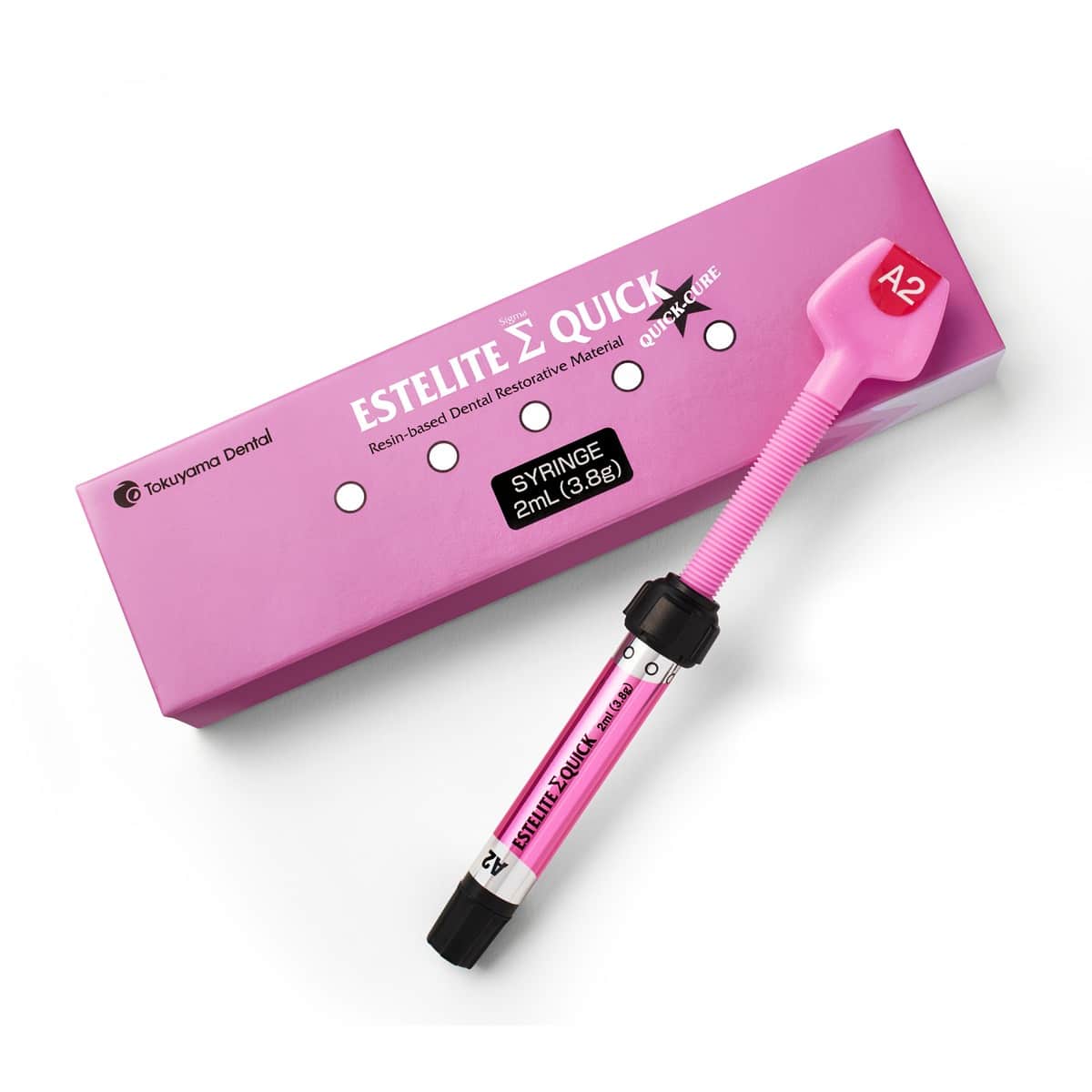 Estelite Sigma Quick PLTs (Pre-Loaded Tips)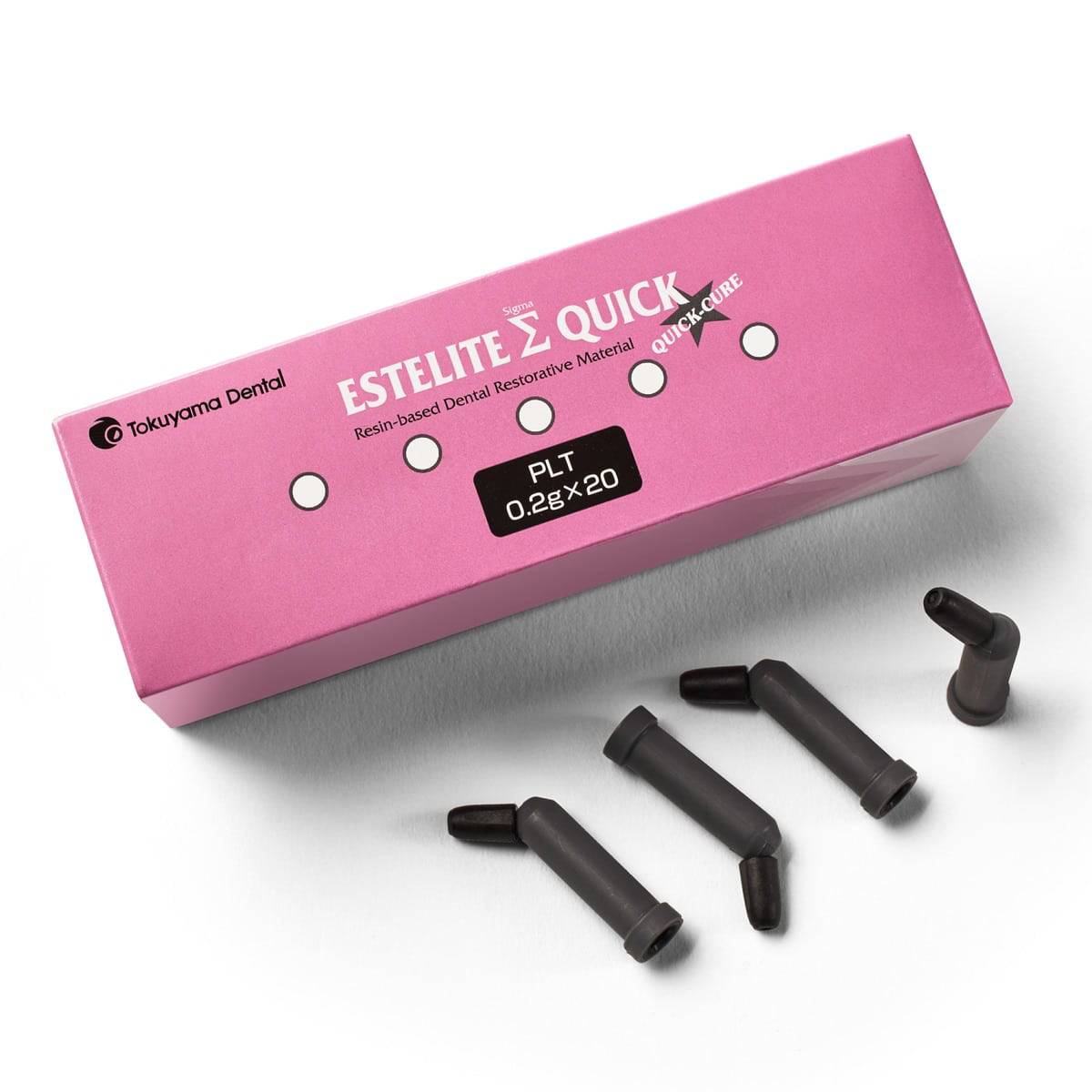 Shade Matching guide