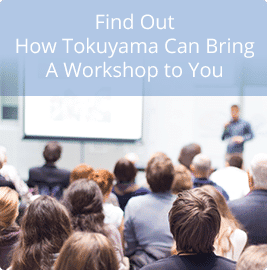 News & Events
American Academy of Pediatric Dentistry (AAPD) / Booth #607

5/23 - 5/26 Hilton Chicago, Chicago, IL


JDIQ Annual Conference / Booth #2110

5/26 - 5/28 Palais des Congres, Montreal, Canada


Mississippi Annual Dental Meeting

5/30 - 6/2 Perdido Beach Resort, Orange Beach, AL

"
Tokuyama is a dental company that has earned my trust. They consistently introduce high-quality, innovative products, backed by great service and supported by a friendly, helpful team.
"
– Dr. Brian Gray
"
 I appreciate the prompt service and delivery of supplies every time I order products from Tokuyama.
"
– Dr. Jeffrey Grabiel
"
I use Estelite Sigma Quick and Estelite Omega everyday in my practice. For the more cosmetic anterior cases I use Estelite Omega combined with Estelite color to create beautiful polychromatic restorations. For all the other restorations I use Estelite sigma quick. Both composite systems have excellent handing properties, are very durable, and polish like a microfill!
"
– Dr. James Peyton 
"
I love and use Tokuyama Dental products for their outstanding quality & value. They continually deliver incredible dental products which is why Tokuyama Dental is my first choice, along with my associates and colleagues alike.
"
– Dr. Randy Halihan
"
Most Dentists have a bonding system (from one manufacturer) they love to use, and a composite material (from a different manufacturer) they love to use. However, the best way to get the most out of any bonding and composite resin is to use materials from the same manufacturer. The Tokuyama products that I use together: the desensitizer, Shield Force Plus, the bonding agent, Bond Force, and the resin material, Estelite Sigma Quick and Estelite Flow Quick, make doing composite restorations fast, easy, predictable, and long-lasting. Using Tokuyama Dental products allows Dentist to select one manufacturer that can provide a complete system of materials, without having to mix-and-match from other companies.
"
– Richard Lipscomb
"
Tokuyama is a great dental company with superb dental products back it!
"
– Sam Halabo