ESTELITE BULK FILL FLOW
Supra-Nano filled flowable bulk fill composite
Just how much faster is Estelite Bulk Fill Flow?
With no capping layer needed up to 4mm, faster placement, and faster curing time, Estelite Bulk Fill Flow offers faster and simpler bulk fill restorations compared to other leading brands
ESTELITE COMPOSITES
Spherical Filler Technology­­
Developed over 25 years ago by Tokuyama's Research & Development Team in Japan, Estelite's spherical filler particles have won numerous awards for delivering superior benefits to Dentists and patients alike. With an average particle size of 200 nanometers (supra-nano), the spherical filler particles are the foundation to delivering simple, lasting and beautiful results.
Other dental composite brands contain irregular shaped sized fillers, which interfere with polishability, shade blendability, and longevity. However, as a result of the revolutionary spherical filler technology, Estelite dental composites exhibit exceptional esthetics while maintaining excellent physical properties, a signature feature of Tokuyama Dental's composites.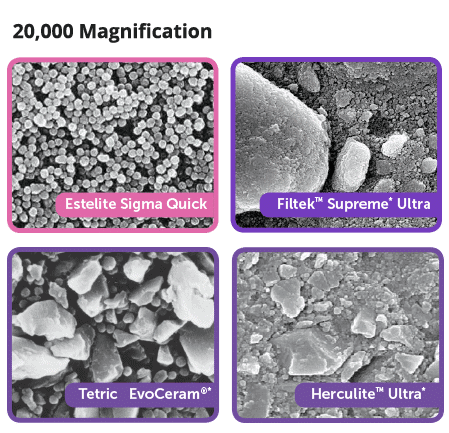 *Not a registered trademark of Tokuyama Dental Corp.
FEATURES & BENEFITS
Superior blending with wide shade matching
Higher opacity when cured
Outstanding polishability
High gloss retention
Bulk fill up to 4mm
No capping layer of another composite needed
Quick curing time – 10 seconds
High compressive strength
52% higher than the leading flowable bulk fill
Higher cavity adaptation
Minimal shrinkage stress
More consistent curing from bottom to top
INDICATIONS
Direct posterior restorations
Direct anterior restorations*
Cavity lining
Blocking out cavity undercuts before fabrication of indirect restorations
Repair of porcelain/composite
Class I
Class II
Class III*
Class IV
Class IV
*When opacity is paramount for Class III and Class IV, a lingual shelf layer of an OPAQUE shade of a universal composite, such as OPA2, OA2, or OA3 is needed to complete the procedure before using Estelite Bulk Fill Flow.
AVAILABLE SHADES:
U Shade Indications:
For lighter shades or cervical enamel restorations.
For restorations deeper than 4mm: U shade can be used as a bulk fill base liner. Another layer of Estelite Bulk Fill Flow should be placed to finish the restoration.
HOW WE COMPARE
Now bulk fill restorations can be beautiful too
5 shades with superior color matching ability blend across a range of different tooth shades, delivering a unique "Chameleon" effect.
From translucent to opaque
| | |
| --- | --- |
| | TRANSLUCENT BEFORE CURING To help the light reach the bottom of the restoration |
| | |
| --- | --- |
| | MORE OPAQUE WHEN CURED For a more natural look than other bulk fill composites |
Incredible long lasting glossiness and easy polishability
Estelite Bulk Fill Flow reaches over 90% glossiness in only 60 seconds of polishing, providing a long-lasting glossiness for years to come.
A faster bulk fill
Flowable with no capping layer needed
The innovative formula in Estelite Bulk Fill Flow makes it more esthetic and stronger than other brands, no capping layer needed. Fill up to 4mm with no additional equipment or composites.
Half the curing time of leading bulk fill composites
10 seconds curing is all you need to deliver a beautiful and strong restoration for years to come.
A bulk fill for worry-free restorations
The best cavity adaptation
Estelite Bulk Fill Flow easily adapts to the cavity, flowing into the nooks and crannies, providing an excellent marginal seal and preventing restoration failure.
*Marginal failure, gaps, and voids were common in other tested brands.
Cured to the bottom of the restoration
Thanks to its high translucency at placement, Estelite Bulk Fill Flow cures all the way to the bottom of a 4mm deep restoration in only 10 seconds.
Minimal shrinkage stress
The spherical fillers used in Estelite Bulk Fill Flow reduce shrinkage stress and linear shrinkage to a minimum.
A stronger, more durable bulk fill

Stronger than one of the leading bulk fill flowables
Formulated to let patients bite with confidence.
Excellent wear resistance
Estelite Bulk Fill Flow highly resists abrasion and wear for long-lasting posterior restorations.
RESOURCES
Product Brochures
Product Instructions
Product Images
Product Presentation
Safety Data Sheets
Technical Reports
Buy 3 Estelite Bulk Fill Flow Refills, Get 1 FREE!
Estelite Bulk Fill Flow Syringe
ADD TO CART
MSRP: $77.79

Prices may vary depending on dealer.
Content:
3.0g (1.8mL)/Syringe
Syringe tips (x10)
Estelite Bulk Fill Flow PLTs (Pre-Loaded Tips)
ADD TO CART
MSRP: $94.90

Prices may vary depending on dealer.